World Cup 2022: Argentina v France final buildup, Southgate stays with England – live – The Guardian
AEsport.tv – Watch FIFA 2022 World Cup Live Stream Online

Key events
And that concludes the blog. Thanks all for your company and comments over the last month – enjoy the final, coverage of which you can find below. Peace and love!
I've not yet got these 100% confirmed, but these appear to be our teams – and they look right. The big news is the return of Ángel di María, which should give Argentina a bit more in the middle of the park. I'm Lionel Scaloni – FAOD, I'm not – I'm playing him very narrow.
Argentina (4-4-2): Martínez; Molina, Romero, Otamendi, Acuña; Di María, De Paul, Enzo Fernández, Mac Allister; Messi, Álvarez.
France (4-3-3): Lloris, Koundé, Varane, Upamecano, T.Hernandez; Tchouaméni, Rabiot, Griezmann; O.Dembélé, Giroud, Mbappé.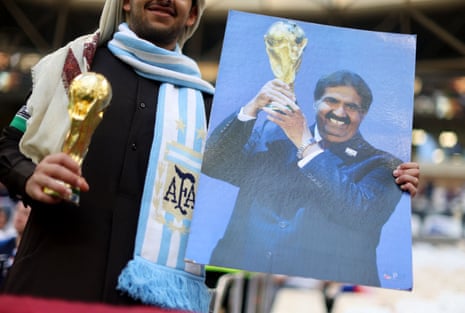 "I remember one of the MBMs featuring Ghana included a recommendation for the following album," returns Joe Pearson. "It is a banger."
Are we allowed to call a compilation an album? Well, either way, here it is.
Here's a final preview from Nick Ames.
"I'll be watching today's game in Dublin with my good friend from Poland, Karolina," emails Robert Holmes. "She's not just a football nut, she also into referees (no idea) and is particularly excited for today's game due to the man in the middle, Szymon Marciniak, hailing from her native land. She's been telling me his origin story: as an undisciplined amateur player, he picked up a red card and gave the ref some backchat. The ref in question duly gave him the old 'If you think you're so clever why don't you become a ref and show us how it's done' line. Challenge accepted, this he duly did and today he's reffing the biggest match of them all. I can tell you, this Pole sitting beside me here is bursting with pride. You can read all about it here via a popular translate service if your Polish isn't too hot."
I didn't know that – that's great.
It seems there's some overcrowding around the ground. Hopefully it sorts itself quickly.
My proudest achievement of this World Cup: a playlist of Ghanaian tunes, prepared for Ghana v Uruguay.
"For the record, I'm still a Hoosier and still don't have an opinion on Southgate," says Joe Pearson in Indianapolis, "but I do think that Griezmann is the most important player in today's match. His floating, do whatever is needed, non-position has been a revelation all tournament."
Yes, can't argue with his impact, and perhaps he's found his position. I hope he gets the chance to play it in club football and, I guess, we've to credit Deschamps for finding it for him.
So how is this gamer going to go? I'm leaning towards France, who I think have more knowhow, more ways to win, and the confidence that they're capable of it. Argentina lack a bit in midfield, I think, and if France dominate that area, which I think they will, I imagine they'll create enough chances to score the goals they need.
Our World Cup final MBM is liiiiiive!
"If we limit ourselves to World Cup winners, I think France in 1998 had probably the best crop of players in my lifetime, though West-Germany in 1990 is pretty close," reckons Kári Tulinius. "Looking back, Brazil in 1970 had an absurd lineup that's hard to look past. But I don't think this year's France comes close. If they had a better crop, they'd have at least one each of an attacking midfielder and a left-back; instead Deschamps figured out how to make previously round holes square, to fit the pegs he had. Considering how spectacularly unlucky France have been with injuries, if France win today it'll possibly be the greatest feat of international management in football history. And let me add my voice to the chorus of thanks. If a tournament ever needed the kind of wide-ranging context that you and your colleagues provide, it was this one."
But France 98 had Stéphane Guivarc'h up front, and Thierry Henry wasn't yet Thierry Henry. By Euro 2000, they were better, I think – also because Patrick Vieira was also better.
"If you're Argentina you don't want three at the back," returns Yash Gupta. '"Griezmann's deeper role plus Giroud and Mbappe will leave back three all over the shop and Argentinian midfield will be unable to balance offence and defence. It should be saved as an in-game change to change the tide when France will be on top or to close the shop. Harsh on Lisandro Martinez nevertheless."
I dislike three at the back as a general rule, but 4-4-2 means conceding midfield and possession – which against a team with Mbappé up front and Greizmann in form is asking for trouble. Perhaps Scaloni will go 4-3-3.
"You're right about the Hand of God," says Simon McMahon. "I think the full quote made reference to divine intervention and went something like 'a little bit the hand of Maradona, a little bit the hand of God'. Couldn't happen today with VAR of course, and more's the pity I say. But then I am Scottish, so not entirely neutral. Thanks for all the coverage, here's to a great final…"
Football would be the poorer without that goal, I'd say.
"There will be intriguing battles all over the pitch," emails Yash Gupta, "but Romero v Mbappé edges everything else for me. If the ref lets things go, which they usually do in a final, that matchup will overshadow everything else and I can't wait to see that!"
Scaloni's centre-back preferences are interesting – Romero has a lot of potential and a lot of attributes but he can be wild, while Otamendi always has an error in him. So I'm surprised Lisandro Martínez has been in and out; we might see three at the back today, but 4-4-2 seems more likely.
The Pakistan v England Test has finished for the day, and it's brewing.
"I too would like to add my thanks for your coverage of a World Cup that I originally viewed with apathy," emails Nigel Phillips, "but have really actually enjoyed your real-time comments add to a communal atmosphere that because of a lack of local pubs, I've been missing. Argentina to win 3-2."
Thanks Nigel, our pleasure. An Argentina 3-2 sounds alright.
There are some belters in this:
On which point, Raphaël Varane already has one of the best CVs in football – one World Cup, three La Ligas and four Champions Leagues. But another of the former? That would be absurd.
I wonder if France's current crop is the best pool of players any country has ever had. They might just lack an all-time great – Mbappé will obviously be a generational one, but beyond that I'm not sure – and it's hard (for me) to rank them alongside the best international outfits I've seen. But you can't argue with consecutive World Cups (or should that be Worlds Cup)?
But back to the final, here's Jacob Steinberg's preview.
But perhaps the most significant footballing development is proper added time. I also wrote about that:
I asked for moments of the tournament a little earlier; mine is Morocco beating Portugal, and this is why:
"Given the greed Messi showed in grabbing millions to become Saudi Arabia's 'tourism envoy', " says Darryl Accone, "poetic justice would be for him to miss a winning penalty and then for his team to lose. As an ethics-free indentured servant of both the Saudis and Qatar (PSG), that would be an apt catharsis."
For more information on that, read this:
Earlier, we were talking about this World Cup needing an epic final. I wrote about what constitutes the perfect competition before we got going, and dreadful stuff notwithstanding, that's my biggest criticism.
"If Messi scores the winner today," says Phil Grey, "do you think the goal will be known as The foot of God?"
I'd say not because I always thought the God whose hand it was was actual God, i.e. Maradona saying there was an intervention, rather than it being said that he was God. Have I misunderstood all these years?
Breaking news: the heating is off.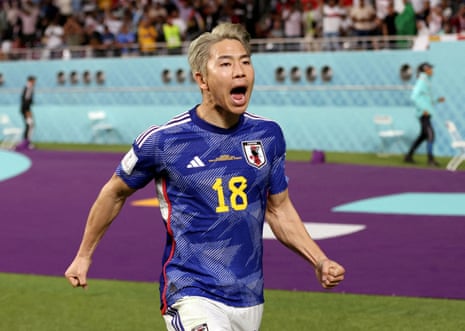 Here's David Hytner on Southgate:
"Thanks for your and your colleagues' fantastic coverage of a thoroughly enjoyable World Cup," emails Mark Moran. "On the prospect of Messi winning the it, I'm in two minds. On one hand, I want Argentina to win because I love how passionate the nation is and I've recently discovered that Alexis Mac Allister and I share a great-great-great grandfather (!). However, I find the media frenzy in some quarters around Messi quite wearing and especially feel sorry for goalscorers to whom he provides the assist, who are completely overshadowed. I have no particular love for or dislike of Messi, and while recognising that he is an unbelievably talented player that we are fortunate to see play on the biggest stage, I think the hysteria around him if he wins the World Cup may be tiresome."
Excuse me?! Alexis Mac Allister is your cousin? You need to be on the phone for comps!
Will posted this earlier but I'm going to post it again, simply because Marcela Mora y Araujo is a great woman and, alongside Jorge Valdano, the person I most want to read on Argentinian football.
"I agree that there hasn't been a bona fide classic this tournament, like France-Argentina last time around," says Kári Tulinius, "but all the quarter-finals came close. I'm having a hard time picking one, though I'd probably opt for England v France, because it was high quality throughout, and featured two good teams posing difficult questions to each other and then solving them.
I think the defence of the tournament is pretty clear, Tagliafico, Gvardiol, Varane and Hakimi. I'm less sure about midfielders and forwards, but I think I'd go for Tchouaméni, Modric and Griezmann in midfield, and Messi, Mbappé and Giroud up front.
The Moroccan players dancing with their moms is obviously the best moment, but I suppose it wasn't during a match. I which case my favourite moment was those three minutes when both Spain and Germany were going out and Costa Rica and Japan were going through."
I agree England v France was the highest standard, and we got some good extra-time in Brazil v Croatia, but yeah, the final round of group games was when this tournament peaked. I can have three of that back four – Tagliafico isn't getting in mine though I'm not sure who is. I love Modric but don't think he played that well in this tournament – I'd have Casemiro and the two Moroccan lads ahead of him and Tchouameni, I think. I also think I'm having Álvarez before Giroud.
"As a Boro fan," confides Victor Rushton, "I have never had much time for Southgate's management skills. At the highest level he is found to be too cautious tactically, and one has to highlight the over indulgence of favourites such as Pickford and Kane. İt was widely predicted that England would get to the quarters and then lose to the first decent team we played, that should not be considered a success. Deep down we all know England will never win anything with Southgate in charge. Ultimately we have decided to persist with a diplomat, rather than a coach."
I can't say I haven't criticised Southgate for managing England like he's managing Boro, but I do think he's improved in this tournament. Any team can lose to France, so I don't think the line about first decent team he faced is a fair one – he was a missed penalty away from extra time – and I don't see an outstanding replacement around, unless Emma Hayes fancies it.
"Bad decision in my view," says David Sheal on Southgate. "Kept with same team against France that performed poorly in first half of Senegal game. Substituted too late (as usual). Rashford should have been on at the start of the second half along with Grealish and Trippier. Grealish had two minutes to make an impact! What would Deschamps have done? Played Rashford and Trippier from the start and brought Grealish on mid second half. Madness to let Kane take a second penalty against Lloris, who knows him so well. We all saw the save coming. Southgate has done what he can-he keeps making the same mistakes. The France game was winnable. We lost it."
I agree the France game was winnable and that Southgate used his subs too late, but I don't think he got the team wrong, especially. I'd maybe have gone Phillips not Henderson, but I doubt that gives a different result, and England's performance from 45-65 tells us he was right not to make changes at the break – managers rarely do. I also don't think Deschamps is any great shakes as a manager, he's just got good players and one amazing player.
On which point, epics is where this World Cup has fallen down. The quarter-finals were fun and dramatic, but we've not seen a classic match of wild quality, I don't think. One today, and as the years pass we'll look at this tournament very differently.
"Perhaps i'm in a minority of one," says David Wall, "but I'm kind of hoping that France win precisely so that Messi doesn't ever win the World Cup. That's nothing against Messi personally, i think he's a wonderful player (though I'm not interested in arguments about who is the best ever player, etc). I just think that it's better for the game that it can't be bent so readily towards such nice narratives, that it isn't something that people can ever really master. So I think there was something beautiful in the fact that, say, Pele put his shot wide after that outrageous dummy on the goalkeeper in 1970, that Brian Clough never won the FA Cup, that Gary Lineker fluffed the penalty that would have equalled Bobby Charlton's England goal scoring record and so on. It would all be too neat for Messi to finally get his hands on the World Cup, as though there's nothing left to achieve."
I don't have a strong feeling on Messi: if he does it, he deserves it, but I don't think his career requires it and I don't desire it for him – partly for that reason and partly because much as his football is incredible, I don't feel a personal connection to him the way I do to some. I'd love a proper epic, though.
I don't feel strongly about most aspects of these things, but if this isn't your best goal, we've got a problem.
I'm trying to think of my team. I guess players you can't leave out are Messi, Mbappé and Griezmann; at least one of Amrabat and Ounahi, maybe both.

source
FIFA World Cup 2022 Live Stream – AEsport.tv
European roundup: Bayern and PSG both beaten, Lazio win fiery Rome derby – The Guardian
Aesport.TV – Live Football Streaming HD
Gorolive.com – The latest soccer highlights and football news
source
Gorolive.com – Free to watch Football League Highlights
<p>The post European roundup: Bayern and PSG both beaten, Lazio win fiery Rome derby – The Guardian first appeared on GoroLive.</p>
source
Aesport.TV – Watch Live Matches Today
Chris Hughton reveals biggest disappointment from Ghana's 2022 World Cup campaign – GhanaWeb
Reds get green light for Reading WSL game – Man Utd
Aesport.TV – Live Football Streaming HD
Gorolive.com – Man United News Highlights
source
Gorolive.com – Watch Man United F.C Live Match News
<p>The post Reds get green light for Reading WSL game – Man Utd first appeared on GoroLive.</p>
source
Aesport.TV – Watch Live Matches Today