World Cup 2022 briefing: four sides still standing after quarter-final drama – The Guardian
AEsport.tv – Watch FIFA 2022 World Cup Live Stream Online

---
The main event
One of the most exhilarating, yet also brutal, things about a World Cup is the way it reaches a crescendo. The games become less frequent, from four in a day at the start to four a week at the end, but they are increasingly imbued with a savage jeopardy. Careers are defined, for richer and poorer, potential champions are bumped off without warning or sentiment like Janet Leigh in Psycho, and before you know it there are only a few teams left standing.
After the most wildly emotional set of quarter-finals in World Cup history, we now know the semi-final line-up for Qatar 2022. Argentina will play Croatia on Tuesday evening, with the defending champions France meeting Morocco 24 hours later. Two teams from Europe, one from South America and one – uniquely, gloriously – from Africa.
All four teams are marvellous, all are flawed – but, most importantly for a tournament that has been high on narrative from day one, all provide a great story that doesn't, or at least shouldn't, need any hyperbole. Croatia or Morocco would be the first new world champions since Spain in 2010. France would be the first team to retain the trophy since 1962. And an Argentina victory would be the first in Lionel Messi's lifetime, never mind his football career.
The opening semi-final is a meeting of the last two runners-up: Croatia lost to France in the final in 2018, Argentina to Germany in 2014. Both teams are still captained by the Golden Ball winner in each of those tournaments, Luka Modric and Messi. Apart from their initials, they don't have much in common these days. Modric dictates games yet keeps a low profile; Messi is now more likely to decorate them, often sublimely, and can leave half the world weak at the knees with a simple body swerve. Only one of them will get another shot at a World Cup final.
To reach the final Argentina will have to do something that has proved extremely difficult in the last two competitions – put one in Croatia's brain. Zlatko Dalic's side are the unkillables of world football, a hard-wearing group of extra-time addicts who have had the best view from the precipice ever since Romelu Lukaku started missing sitters in their final group game against Belgium.
Croatia's laboured attacking performances are more forgivable because of their agelessness, their resilience and their Modric. He is the rarest of things, a footballer whose humility is commensurate with his talent. Croatia embarrassed Argentina 3-0 in the group stage of the last World Cup, when keeper Willy Caballero had an infamous shocker. Both qualified but the result opened up a much clearer path to the final for Croatia – and gave Argentina a stinker of a last-16 tie against France.
If Croatia are indefatigable, then Morocco appear unbreakable. Their team have defied injury and logic to become the first African team ever to reach the World Cup semi-finals. Whatever happens from here, a part of Qatar 2022 will always belong to Morocco. Not only are they unbeaten, they haven't even been behind at any stage of the tournament. The Atlas Lions have bitten their way through a map of Europe, beating Belgium, Spain and Portugal – but France would be the tastiest of the lot.
Maybe Pelé will see belated fulfilment of his prediction that an African team would win the World Cup by the year 2000. Or maybe France will become the first side since Brazil in 1962 to retain the World Cup. There is still a good chance of Kylian Mbappé or Messi making this tournament their own, even if comparisons to Diego Maradona in 1986 should be banned on grounds of sacrilege (and yes, we've been guilty of this too).
France needed all their experience and entitlement to withstand England's best performance at a major tournament this century. And though they are deservedly favourites, even without at least four of their best XI, France still do not feel like a sure thing. They have never met Morocco at a major tournament – no, we're not counting the Hassan II Cup – but their proximity and political relationship will add another layer of intensity to an already seismic game.
There's something for every neutral, never mind those with the fortune to still have a partisan interest. Messi, Modric, Mbappé and Morocco: take your pick, they're all great stories.
Grant Wahl
Tributes have poured in from across the world of football for Grant Wahl after the American journalist died on Friday. Sports Illustrated wrote: "We were proud to call him a colleague and friend for two decades – no writer in the history of SI has been more passionate about the sport he loved."
Writing for the Guardian, Sonja Cori Missio praised Wahl's support for aspiring writers: "for anyone who reached out: he pulled them up, treated them like an equal, and offered whatever he could." Billie Jean King paid tribute to Wahl for "using his platform to elevate those whose stories needed telling"while the USA captain, Tyler Adams, said: "Grant's was a giant voice in soccer that has tragically fallen silent." NMc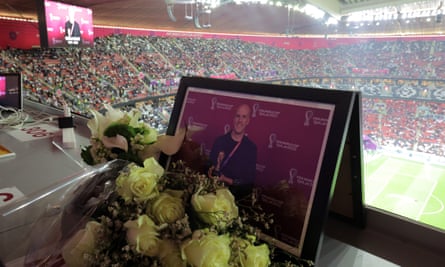 Talking points
Morocco really could win this World Cup
After Croatia's comeback victory in the 2018 semi-final, Luka Modric accused the English media of disrespect in the build-up. Whether or not there was any basis to Modric's complaints, there will be no danger of anyone underestimating Morocco in the last four, particularly after yesterday's historic shut-out of Portugal. Morocco's defensive discipline and collective spirit has repeatedly demonstrated that teamwork trumps individual brilliance – so it was appropriate that the increasingly disruptive Cristiano Ronaldo was left in tears by the Atlas Lions' rearguard action at Al Thumama Stadium. The continent of Africa finally has a World Cup semi-finalist, 12 years after Ghana were controversially denied by Uruguay. It would now hardly be a surprise for them to go all the way. LMc
Selfless Giroud deserves the spotlight
Olivier Giroud would have been within his rights to feel dismayed last week, when he finally broke his country's goalscoring record only to see his thunder stolen by a breathtaking performance from Kylian Mbappé. On Saturday night the limelight was all his after a second-half winner that capped a performance of quiet excellence from the veteran target man. Giroud was a latecomer to elite-level football and his playing style – subtlety over speed, quick thinking over quick feet – is one that lends itself to getting better with age. There remains something deeply impressive in the way he has carved out a status as both the selfless striker who enables his glitzier teammates to excel and the reliable no-frills goalscorer who gets his team over the line when it counts. Perhaps it is no coincidence that Giroud, who plays without ego or entitlement, has sent his side into the semi-finals while Cristiano Ronaldo and Neymar have departed the stage in tears. AH
Argentina stake claim as sorest winners
In the aftermath of their fiery penalty shootout triumph over the Netherlands, Argentina have drawn criticism and acclaim for their spectacular bad grace in victory. Whether it was Nicolás Otamendi cupping his ears towards the heartbroken Dutch players after the decisive spot-kick, Emi Martínez telling Louis van Gaal to "keep his mouth shut" in his post-match press conference or Lionel Messi having it out with Wout Weghorst live on air, the Albiceleste seemed more concerned with rubbing salt in their opponents' wounds than enjoying their success. Their reaction has rekindled the culture war between those who believe in sportsmanship, gentlemanly virtues and the Corinthian spirit and those who revel in anarchy, the dark arts and the eldritch magic known as shithousery. When Argentina face Croatia, expect off-the-ball antics, beleaguered officials and a bitter fallout whether they win or lose. WM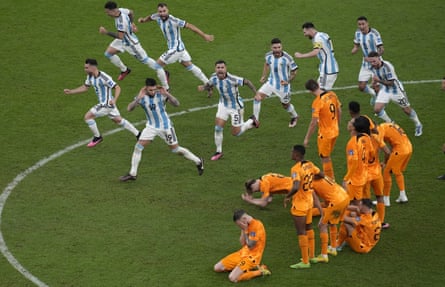 In a reminder of the extreme limitations of corporate solidarity, brands are set to spend between £85m and £100m on advertising around the World Cup across all UK media, while largely shelving their progressive credentials. Despite previously signalling support for LGBTQ+ rights, there has been a deafening silence from some of the biggest multinational companies sponsoring the tournament on human rights and discrimination against LGBTQ+ people in Qatar. "The hypocrisy is ridiculous," according to one ad industry executive. "Whether it be organic farming, saving the oceans, women's or gay rights, mental health, knife crime – these sorts of campaigns are everywhere. Many of the brands advertising during the World Cup are super-progressive – but none of that applies when it comes to Qatar." WM
Global media-watch
Even as three more countries are shaken by quarter-final exits, the aftershock from Brazil's penalty shootout defeat to Croatia rumbles on. O Globo had the word "frustration" splashed across its front page on Saturday, lamenting "Tite's wrong decisions, the lack of accuracy in attack and Neymar not taking his penalty right away" as the main factors in the favourites' unexpected exit. CNN Brazil noted that "with the possibility of a sixth championship being postponed to the World Cup in 2026, Brazil will equal an important, but uncomfortable, mark of 24 years without being crowned world champion." Luiz Inácio Lula da Silva, the president-elect, struck a more magnanimous tone, tweeting: "Brazil made an effort, Neymar scored a beautiful goal and the team deserved more. My compliments to the players and coaching staff. Let's go ahead because in life we can never give up." WM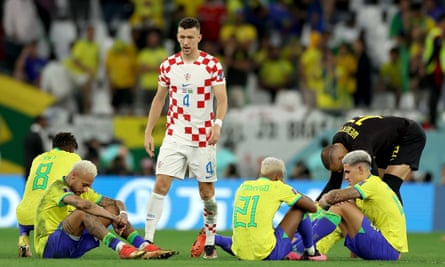 The internet reacts
Morocco's victory over Portugal meant that Africa will finally have a representative in the World Cup's final four, and the joy on social media was unconfined. Shakira, whose 2010 theme song "Waka Waka (This Time for Africa)" belongs on any World Cup playlist, was quick to join the party.
Meanwhile, Cristiano Ronaldo's 4K tears at the final whistle completed a hat-trick of sad-face departures likely to warm the hearts of neutrals.
Within minutes of England crashing out, #ITVCurse was trending on Twitter, as the jinx that looked to have been lifted against Senegal returned. Kylian Mbappé was kept largely quiet during the game, but still managed to make an impact on social media as his reaction to Harry Kane's miss went viral. NMc
And finally …
As if the last few weeks haven't been miserable enough for Manuel Neuer after Germany exited this World Cup at the group stage, the Bayern Munich goalkeeper has been ruled out for the rest of the season after breaking his leg while skiing.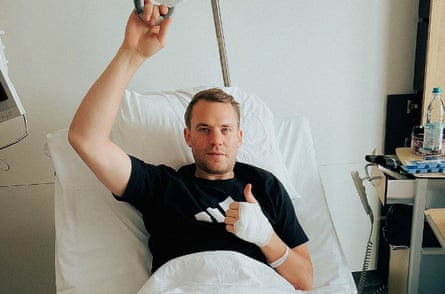 "What can I say, the end of the year could definitely have gone better … while I was trying to clear my head with a ski tour, I broke my lower leg," Neuer wrote on Instagram. "Yesterday's surgery went very well. Many thanks to the medical team! However, it hurts to know that the current season is over for me." WM

source
FIFA World Cup 2022 Live Stream – AEsport.tv
Ratings: De Gea, Martinez & Sabitzer were great against Fulham; Fernandes' brace was a positive too
AEsport.tv – Stream Manchester United Game Today
Manchester United beat Fulham 3-1 at Old Trafford in the Emirate FA Cup quarter final. It was Fulham who were the better team for large spells as Aleksandar Mitrović opening the scoring in the 50th minute of the match. A Willian handball gave a penalty for United which Bruno Fernandes scored – Willian, Mitrović and Marco Silva were sent off. Marcel Saboteur then scored his first goal for United before Fernandes scored a second.
Fulham started well at Old Trafford with Aleksandar Mitrović showing great strength down the right in the second minute, whipping in a good ball that Scott McTominay had to be alert to knock behind. Harry Maguire then headed clear the resulting set-piece. David De Gea made a save in the third minute as Issa Diop was found 15-yards out on an angle, looping a good header towards De Gea, who had the help the ball over the crossbar. Fulham were lively.
In the fourth minute of the match Mitrović had a penalty appeal waved away after he thought he was fouled by Luke Shaw in the box. United seemed to be sloppy from the start with Maguire adding to it with bad passing from the back. Andreas Pereira then drove forward in the eighth minute, found Mitrović who then set up Willian on the edge of the box, who should have found more but hit his effort far and wide of the target. United needed to be so much better.
In the tenth minute, Bruno Fernandes was down needing treatment after seemingly being elbowed just above his waist. He was fine to continue though. Marcus Rashford launched an attack in the 13th minute, finding Wout Weghorst on the edge of the box for the Dutchman's finish was not good enough and was straight at Bernd Leno. Mitrović seemed to be lively in the early stages of the match, seeking a goal against United in the Emirates FA Cup.
Fulham had a good chance in the 14th minute with Harrison Reed nicking the ball off Lisandro Martinez then charging into the box. He had three in the box but his final ball was not good enough and the ball was cleared out for a corner. The corner found its way to Tim Ream on the left flank and he delivered a good ball across the face of the goal but there were no takers for Fulham. Andreas Pereira was booked in the 18th minute for a foul on Rashford.
Maguire was booked three minutes later, which would be a suspension for the semi final of the competition, should United get there where the winner of this match will face Brighton and Hove Albion at Wembley. United were close in the 24th minute as Rashford cut onto his right foot, curled the ball into where Weghorst and Marcel Sabitzer were but neither of them could reach it in the end. Fulham wanted another penalty in the 26th minute after Mitrović went down.
It was not given though as there was nothing in it – other than a dive for Mitrović. Fulham had a chance in the 31st minute but Mitrović was unable to find the back of the net. United had a chance at the other end a minute later with Rashford the source of imagination for United but on his final ball, Leno was able to get to block it which ricocheted of Rashford and out for a goal kick. United then started to find some flow but needed a lot more than they had brought to far.
Martinez defended well in the 40th minute as Mitrović was sent up the channel, having an eye for the box. He tried to beat the Argentinian defender with a change of pace but Martinez stayed strong and came away with the ball. Sabitzer had a chance on goal in the 41st minute, taking on a strike from 22-yards but Leno parried it away. Jadon Sancho started something a minute later, with Sabitzer also involved but Rashford did not get to it. It was 0-0 at half time.
There were no substitutions for either team during the break. Fulham started on top again in the second half with João Palhinha and Reed keeping the chance alive, Willian then back heeled the ball to Antonee Robinson who shot at goal but De Gea tipped it over the crossbar. De Gea made another save a minute later was Willian struck from the edge of the box. Fulham opened the scoring in the 50th minute through Mitrović, who buried the ball provided by Issa Diop.
In the 54th minute, United went direct to Weghorst who held it for Rashford, then finding Fernandes. The Portuguese midfielder took his strike from the edge of the box but it was wide of the target. Ten Hag made a substitution in the 59th minute with Antony replacing McTominay. Willian started rolling back the years in the 64th minute, showing his class and ability. He was unable to inspire Fulham to double their lead though. United still needed to get something back.
De Gea performed another great save in the 66th after Mitrović rose highest to head towards goal. Fernandes had some involvement in something in the 68th minute, sending it in to Sancho, who struck it and it deflected off Rashford. In the 70th minute, Willian seemed to handle the ball, being honest about it. VAR got involved and the referee looked at the screen. He sent Willian off and gave United a penalty – it was a harsh sending off for the Brazilian.
Mitrović got nasty, pushed the referee and pushed his face into his face and was sent off for that. Marco Silva was also sent off for his reaction from the double red card, which turned into a treble. Fernandes took the penalty, scoring his ninth goal of the season for United. Two minutes later, Sabitzer scored his first goal for United after Shaw played the ball into him as he was running in the box. VAR looked at the goal and awarded it. United were 1-0 down to 2-1 up.
That was a dramatic ten minutes. Willian was perhaps treated badly for that sending off but what Mitrović did was out of order and he deserves that. Silva also deserved to be sent off for his reaction to what happened. Some will say United got their way with the referees again but it was purely on Fulham what happened. United just gained from it. That is what happens in football. The Fernandes penalty followed by the Saboteur goal was brilliant for United.
United seemed to cool the game down after that, trying to keep possession – dominating the game, which was a first to be fair. It was a terrible game for United before the penalty. Antony came close in the 88th minute – it tested Leno and Diop but he was not able to score. Fred replaced Rashford in the 83rd minute of the match, giving United more in the midfield with them 2-1 up at this stage of the match. United just needed to keep the ball and keep Fulham a bay.
In the 89th minute, Luis Boa Norte – Fulham's assistant manager, made a triple substitution with Cédric Spares, Manot Solomon and Daniel James replacing Kenny Tete, Bobby De Cordova-Reid and Harrison Reed. In the 90th minute, Tom Cairney replaced Andreas Pereira. Seven minutes were added at the end of the second half. United found a third goal, through Fernandes – his tenth of the season, assisted by Fred in the sixth minute of added time.
It was United that would face Brighton and Hove Albion in the Emirates FA Cup semi final at Wembley in April with Manchester City facing Sheffield United in the other semi final. United's match will probably be on Sunday 23 April as they are playing in the UEFA Europa League the Thursday prior to the match. Ten Hag was happy, United were happy and the supporters were happy. Another trip to Wembley for United – another chance for another trophy this season.
Player Ratings
David De Gea: Made some great saves to deny Fulham – one of which kept them in the game. Conceded to Mitrović but later in the second half, that threat was gone. It was a comfortable match for De Gea. ★★★★★★★★
Aaron Wan-Bissaka: Did not seem to be at his best until Antony was on the pitch. His final third play before that was dire. Their ability with each other is good to see. One of the better aspects of his game. ★★★★★★
Harry Maguire: Not the best performances – one of the worst. Hauled down Mitrović and was booked for it – therefore misses the semi final. Kept his place as Raphael Varane was ill and regressed massively. ★★★★★
Lisandro Martinez: The Argentinian really imposed himself against Fulham, although Harrison Reed did cause him to misjudge him. That said, he was great at the back for United and health with Aleksandar Mitrović well. ★★★★★★★★
Luke Shaw: Did not really get going to help United on the attack much. Did get his seventh assist of the season though playing the ball into Marcel Sabitzer for him to score his first United goal, overlapping Jadon Sancho. ★★★★★★★
Scott McTominay: He was disciplined positionally when he did not have the ball – not that he was bad with it. He got a chance on goal just before the break. Replaced by Antony in the 58th minute of the match – before the madness. ★★★★★
Marcel Sabitzer: Scored his first goal for United. Took time to adjust with Scott McTominay. Had a good shot in the first half and played in a cross. His goal was a brilliant finish – first Austrian to score for United. ★★★★★★★★
Jadon Sancho: Seemed off the pace in the first half. Seemed slow on and off the ball at times. Did not get much dynamism in the match but did win the penalty for United with the ball touching Willian's hand. ★★★★★★
Bruno Fernandes: Careless with the ball at times. He changed his performance when United won the penalty levelling from the spot. He got his second of the game in added time, giving him ten goals and 10 assists this season. ★★★★★★★
Marcus Rashford: He was the one player that created something in the first half. He was quiet in the second half and did not get many chances. He was replaced by Fred in the 83rd minute with United 2-1 up. ★★★★★★
Wout Weghorst: It was not a great day for the Dutchman against Fulham. He was unable to get many chances towards goal, with his first shot not actually a shot, more of a back pass. He was put in the number ten role. ★★★★★
Substitutes
Antony: Replaced McTominay 58′. He helped United on the attack with led to the penalty. He was lively since his introduction. It was good that he recovered from illness ahead of this match. Superb player on his day. ★★★★★★★
Fred: Replaced Rashford 83′. Came on giving more energy with United in the lead. He got his fourth assist of the season for Fernandes' second goal of the match. He was an important substitute for United. ★★★★★★
Match Information
Goals: Bruno Fernandes 75′ penalty', 90+6′, Marcel Sabitzer 77′; Aleksandar Mitrović 50′
Assists: Luke Shaw 77′, Fred 90+6′; Issa Diop 50′
Manchester United: De Gea; Wan-Bissaka, Maguire, Martinez, Shaw; McTominay (Antony 58′), Sabitzer; Sancho, Fernandes, Rashford (Fred 83′); Weghorst
Substitutes Not Used: Butland; Lindelof, Malacia, Dalot; Mainoo; Pellistri, Elanga
Bookings: Harry Maguire 21′; Andreas Pereira 18′, Willian s/o 72′, Aleksandar Mitrović 72′
Written by John Walker
Related
source
AEsport.tv – Manchester United Live Stream Now
FIFA World Cup to have 104 matches in 2026 – Sky News
Confirmed XI: Maguire & Martinez in defence; Sabitzer, Sancho, Fernandes & Rashford supporting Weghorst in attack against Fulham
AEsport.tv – Stream Manchester United Game Today
Manchester United face Fulham in the Emirates FA Cup quarter final at Old Trafford this afternoon. Erik ten Hag's side will play their second quarter final of the season days after reaching their third quarter final in the UEFA Europa League, where they will face Sevilla over two legs next month. This match against Fulham is the final match for United prior to the international break, then the season will continue with United playing nine matches in April – another busy month.
Should United beat Fulham and earn a semi final place in the FA Cup this season, the match against Chelsea at Old Trafford in the Premier League would be postponed as that is the weekend the semi finals will be played at Wembley, so United would need to find the time to reschedule that match, plus the one against Brighton and Hove Albion that should have been played this weekend. Should United go all the way in both competitions, they will have a busy period ahead.
United and Fulham have already met at Craven Cottage in the Premier League this season, just prior to the FIFA World Cup where United won 2-1 with Alejandro Garnacho scoring the winner in in the last minute of added time. United will face Fulham again at Old Trafford on the final day of the Premier League season. The draw for the semi final of the FA Cup should be done prior to this match commencing, providing extra time is not needed between Brighton and Grimsby Town.
Manchester United
De Gea;
Wan-Bissaka, Maguire, Martinez, Shaw;
McTominay, Sabitzer;
Sancho, Fernandes, Rashford;
Weghorst
Substitutes
Butland; Lindelof, Malacia, Dalot; Fred, Mainoo; Antony, Pellistri, Elanga
Fulham
Leno;
Tete, Diop, Ream, Robinson;
Reed, Palhinha;
De Cordova-Reid, Pereira, Willian;
Mitrovic
Substitutes
Rodak; Adarabioyo, Soares; Cairney, James, Lukic; Wilson, Solomon, Vinicius
United and Fulham have met 87 times in all competitions in the history of both clubs. United have won 53 times, drawn 20 times and lost 14 times. Earlier this season United beat Fulham 2-1 at Craven Cottage, just prior to the FIFA World Cup with Christian Eriksen and Alejandro Garnacho scoring either side of Dan James' equaliser. This will be the second meeting of the two teams this season – United face Fulham at Old Trafford in the final Premier League match this season.
United and Fulham have met 14 times in the FA Cup – United have won eight times, drawn four times and lost twice. The last defeat to Fulham in the FA Cup came back in 1908. United have scored 27 goals, conceded 15 and kept four clean sheets. The last time the two teams met in the FA Cup was back in 2013 – a 4-1 victory at Old Trafford with Ryan Giggs, Wayne Rooney and a brave from Javier Hernandez before Aaron Hughes scored a late consolation goal.
Andreas Pereira, Dimitar Berbatov, Andy Cole, Louis Saha, Edwin van de Sar, Paul Parker, Kieran Richardson, Ryan Tunnicliffe, Chris Smalling, Tim Fosu-Mensah, George Best and Charlie Mitten have all played for both Manchester United and Fulham. Best is probably the most well-known along with van de Sar, Parker, Cole, Berbatov, Mitten Saha and Smalling. Pereira is doing well at Fulham after being sold by United. He has three goals and six assists in 31 appearances so far.
Written by John Walker
Related
source
AEsport.tv – Manchester United Live Stream Now